Network performance in industrial automation: Understanding Cat. 5, Cat. 6, and Cat. 7
In the world of industrial automation, having a good network is super important. The right Ethernet cable can mean the difference between a smooth production process and problems that waste time and money. We're here to help – HELUKABEL is your partner in industrial automation. In this article, we'll explain the differences between Cat 5, Cat 6, and Cat 7 cables to help you choose the best one for your needs.

Cat 5: Reliable basics
Cat 5 cables have long been faithful companions. With a bandwidth of up to 100 MHz and support for data speeds of up to 100 Mbps, Cat 5 is a reliable solution for basic networking needs. It is ideal for simpler monitoring, control, and data transmission.
If you need a stable and budget-friendly option, Cat 5 is a good choice. It's been an industry standard for a long time.
Cat 5e: Enhanced performance and greater capacity
Cat 5e has stricter specifications for Power Sum Equal-Level Far-End Crosstalk (PS-ELFEXT), Near-End Crosstalk (NEXT), Attenuation, and Return Loss (RL) than Cat 5. Just like Cat 5, Cat 5e is a standard with 100 MHz, but it achieves higher speeds.
Cat 5e cables are also known for their ability to reduce crosstalk and electromagnetic interference, making them more reliable in noisy production environments.
Cat 6: Faster with extra protection
When you need more speed and data capacity in your industrial automation, Cat 6 is the answer. It has up to 250 MHz of bandwidth and can handle speeds up to 10 Gbps (over short distances). Cat 6 comes in shielded and unshielded versions. Shielded ones protect against electronic interference, which is useful in noisy production environments. It's perfect for industries dealing with lots of data, real-time monitoring, and high-quality video.
Cat 6a: Higher data speeds and superior shielding
For industries requiring even higher data speeds and greater resistance to electromagnetic interference, Cat 6a (augmented) is the optimal solution. Cat 6a builds upon the Cat 6 standard and offers significantly higher frequency, up to 500 MHz, and support for data speeds of up to 10 Gbps over longer distances.
One of the most prominent features of Cat 6a is its full shielding (STP), providing superior protection against electromagnetic interference and ensuring network stability even in the most demanding industrial environments.
Cat 7: High-performance and security
Cat 7 is the most advanced choice of the three mentioned. It offers up to 600 MHz of bandwidth and supports 10 Gbps speeds over longer distances compared to Cat 6. Cat 7 cables are fully shielded, providing top-notch protection against electronic interference and radio frequencies. It's ideal for demanding industrial situations where performance and security are crucial.
Click here to view our Cat 7 product range
We also offer Cat 7e and Cat 7a. For more information, cl Cat 7e and Cat 7aick on the highlighted text or contact us.
Technical differences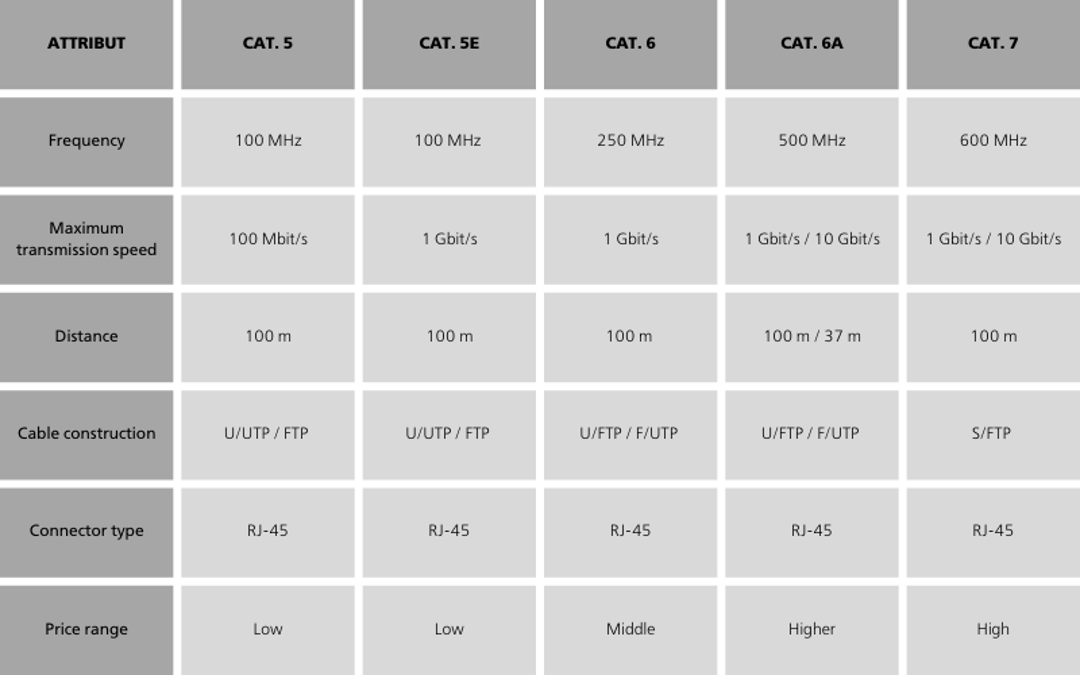 HELUKABEL - Your Long-Term Partner
HELUKABEL is committed to helping industrial clients maximize their network performance and create future-proof solutions. The choice between Cat 5, Cat 6, and Cat 7 depends on your specific needs. Cat 5 is cost-effective and stable. Cat 6 offers more speed and capabilities. Cat 7 is for high-performance and secure networks.
No matter which option you choose, HELUKABEL will be your trusted partner for high-quality Ethernet cables and solutions. Together, we can build networks that make your industrial automation more efficient and ready for the future.
Back